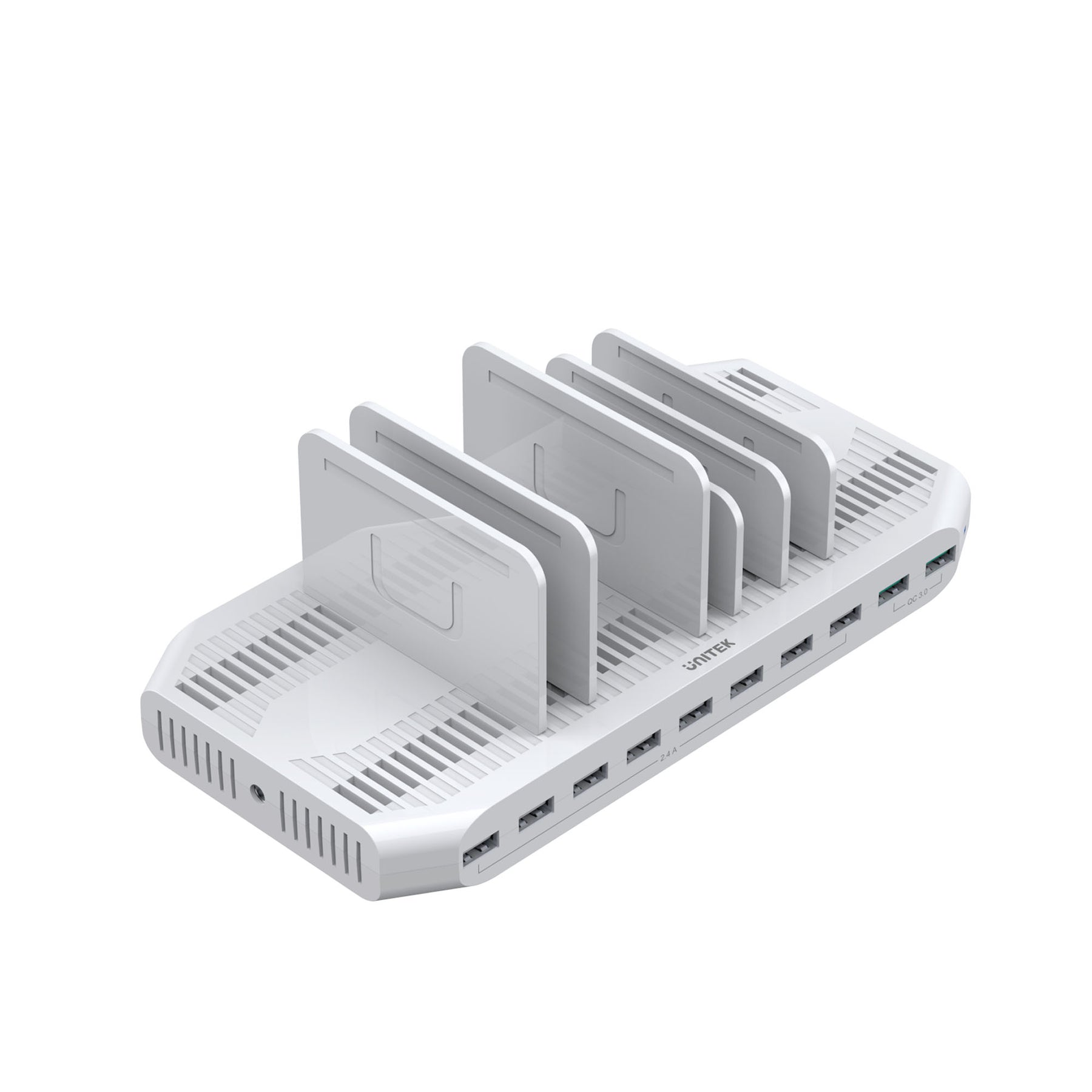 USB Charging Station 10 Port QC 3.0 96W
Fast charge up to 10 multi-size mobile electronics simultaneously while keeping all of them and your desk organized from just one single, smart charging station.
Product Features
Equipped two QC3.0 charging ports, charges devices up to 80% in just 35 minutes. Backward compatible with QC 1.0 & 2. 0
Rapid charging with BC1.2 technology, provides up to 5V2.4A of power per port.
With Smart IC technology, charges up to 10 USB powered devices individually and simultaneously, support 8 iPads at once.
With the sophisticated circuit design against over-charging, over-voltage, over-heating and short circuit as well as automatic detection to stop charging when the battery is full.
Innovative design, the adjustable separators (Tall x5 + Short x6) easily fit the need for different devices and helpful for space-saving.
Equipped with LED indicator, showing the charging status.
Solid and stable base, it can support up to 10 devices. Suitable for corporate, home, school, public transport station, restaurant etc.
Specification
Colour
White
Dimension
238mm x 118mm x 25mm
Materials
PC & ABS
DC Size
5.5*2.5mm
Downstream
USB-A QC x2, USB-A 2.4A x8
Input
AC100-240V/50-60Hz
Output
Quick Charge 3.0 (QC3.0): DC 3.6-6.5V/3A, 6.5-9V/2A, 9-12V/1.5A
USB-A: DC5V/2.4A
Power Delivery
12V8A
Cable Length
1.2M
Package Contents
1 x 96W 10-Port Charging Station
1 x Power Adapter
1 x User Manual
11 x Separator
Shipping cost will be calculated during checkout. International duties & taxes may apply and are not calculated at checkout.
Fast Charging In Total 96W Output
Fullspeed charging your devices including tablet, smartphones and gadgets. Quick Charge (QC) 3.0: DC 3.6-6.5V/3A, 6.5-9V/2A, 9- 12V/1.5A; USB-A: DC 5V/2.4A

As The Organizer Stand For Space-Saving
Reliable Heat Dissipation System
What device can the dividers hold?
The dividers are bearable for tablets and iPads etc. They won't loose or break easily if using them correctly. When inserting the dividers, please push them down all the way with some strength to ensure there isn't any gap, and don't leave too much spare room between the dividers and your devices so as to avoid loading too much weight on the dividers. When removing them, please don't take out by shaking them left and right, but just take out vertically.
Can this charge 10 devices together?
It depends on the power that your devices require. The total output power of this charging station is 96W, if your 10 tablets' total power exceeds 96W, we don't suggest charging 10 units at a time.
What type of cords are included?
The package includes a power cord for the charging station's DC power adapter, it doesn't include the short charging cables for your devices.
If you lose the power cord is it possible to reorder one?
Yes, you could buy another 12V/8A power cord in the local market. Kindly note that the power cord for this charging station shouldn't exceed 12V.
What is a QC 3.0 port?
QC 3.0 refers to Quick Charge @ 3.0. It will charge 25% faster than the 2.4 port.