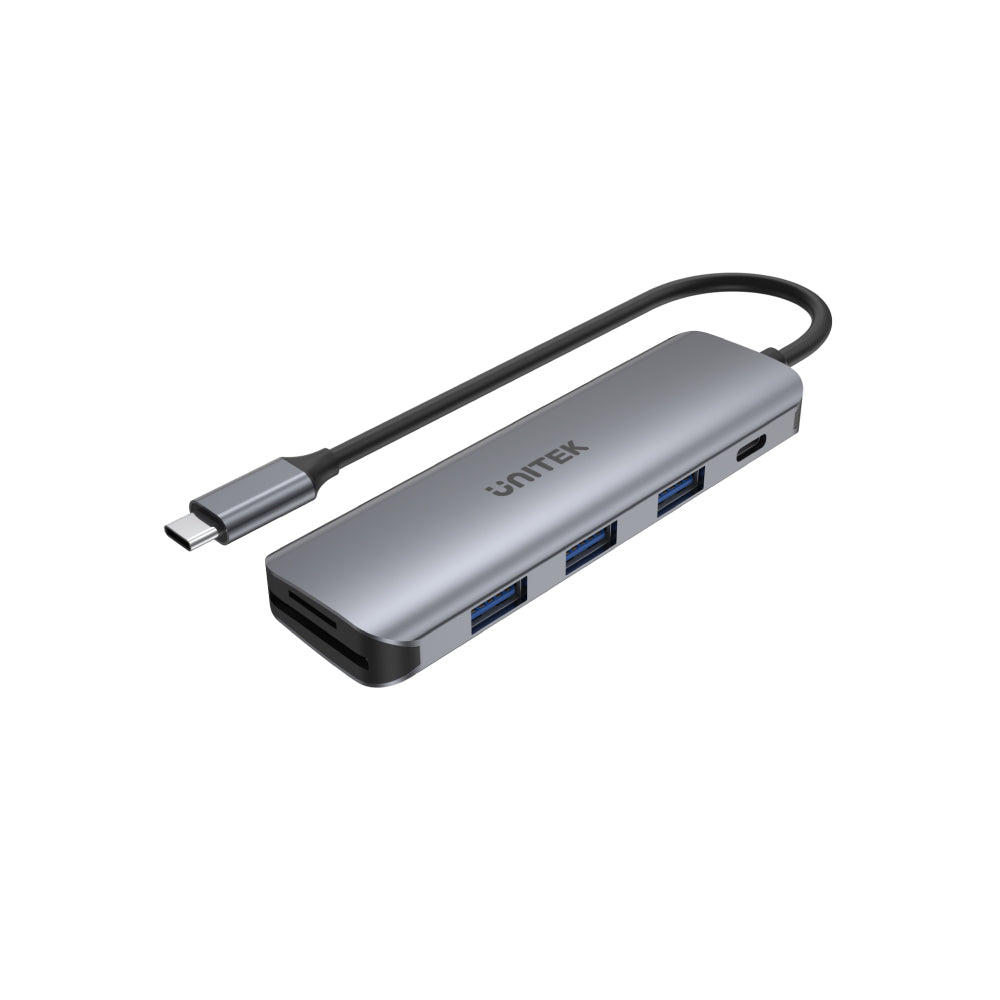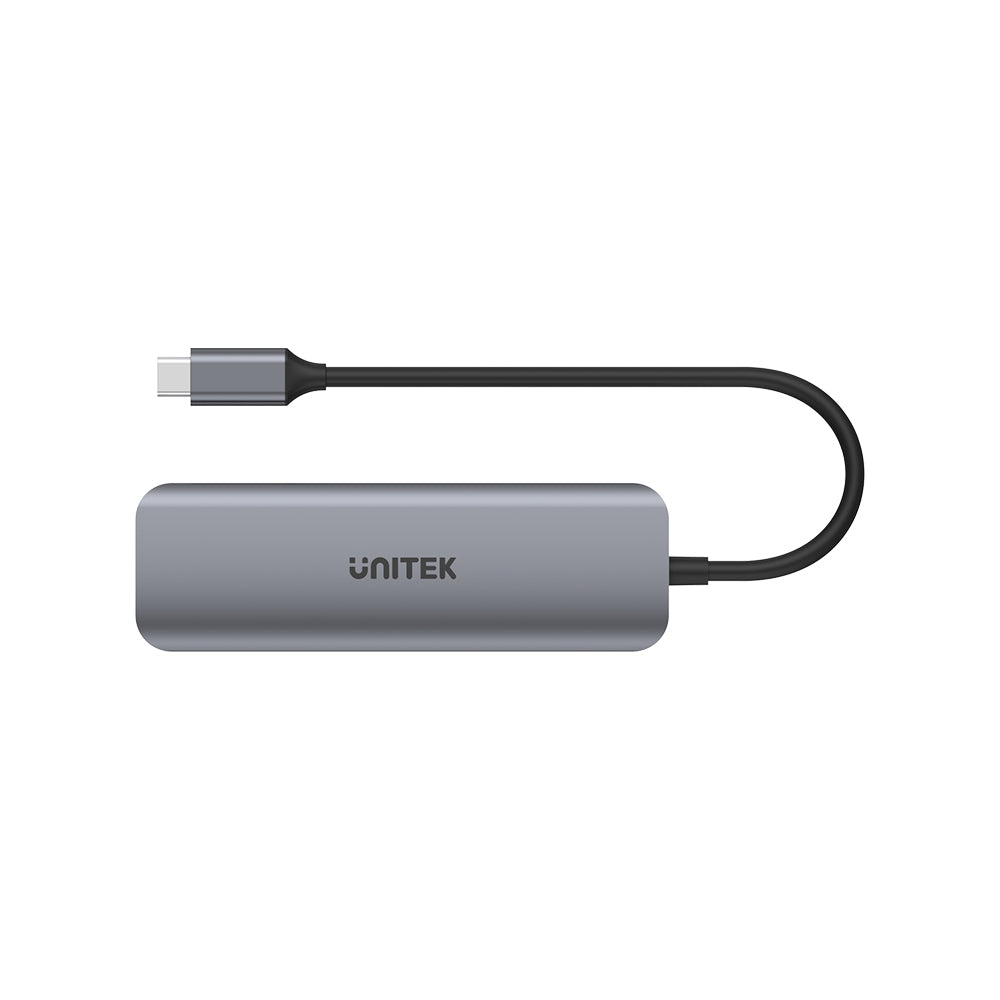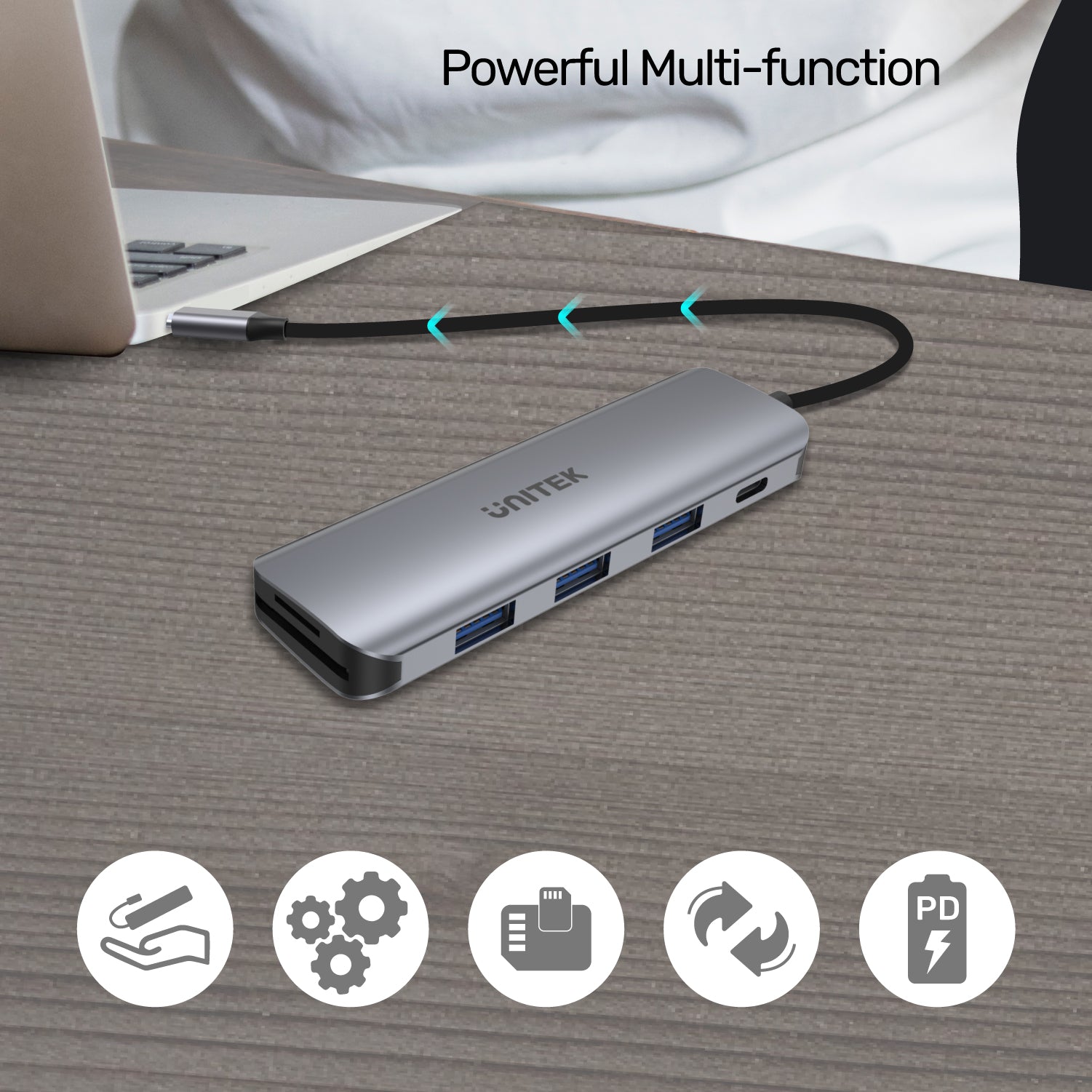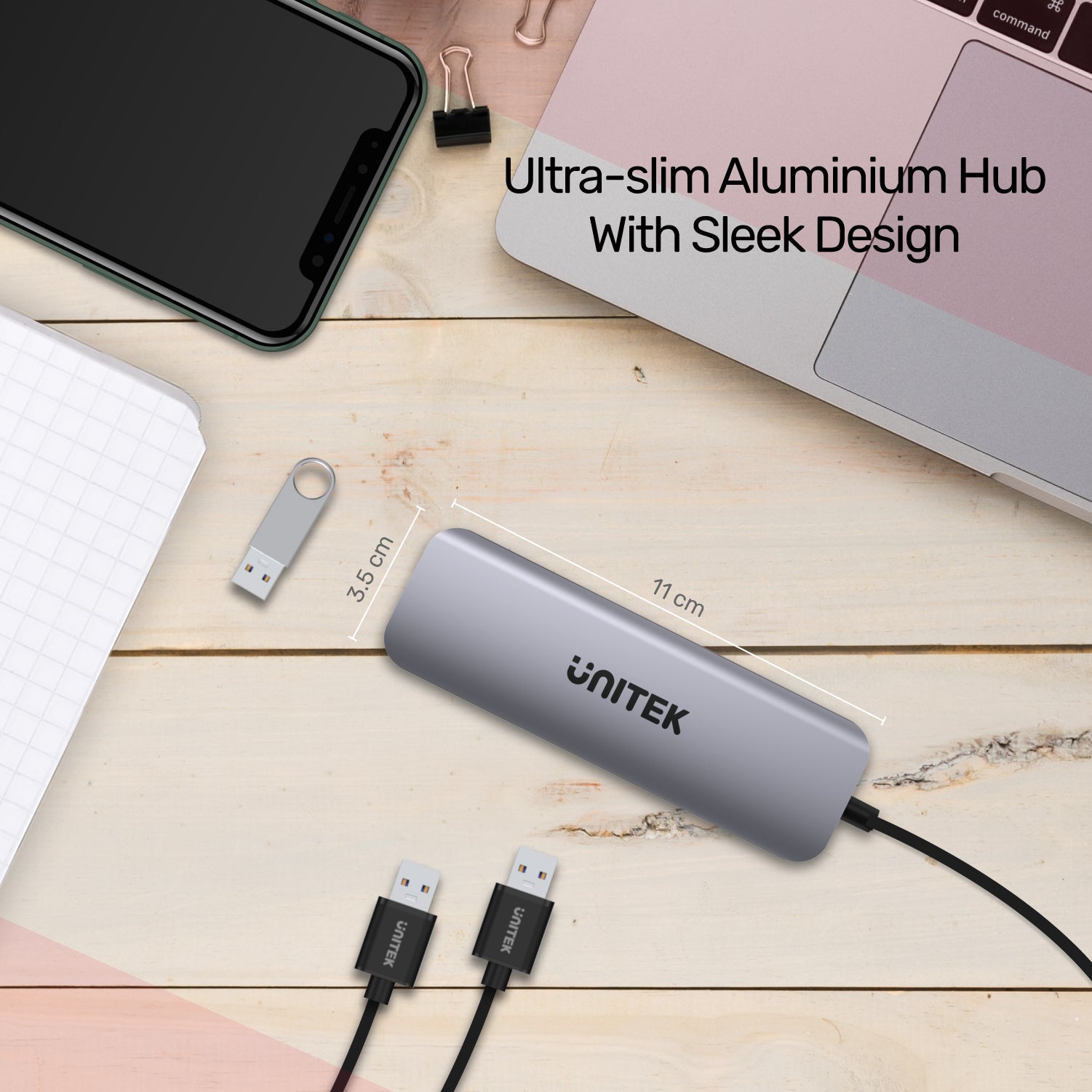 uHUB P5+ 6-in-1 USB-C Hub with 100W Power Delivery and Dual Card Reader
Product Overview
:
Ultra-slim aluminium housing
USB-C Power Delivery 100W charging
3-Port USB expansion with USB3.0 5Gbps SuperSpeed
Card Readers
uHUB P5+ is a USB-C
5/6 ports
hub series composed of 6 models with 3.5mm width only ultra-slim aluminium housing. H1107C offers you the 3 USB-ports for expansion, plus the forceful Power Delivery 100W charging via the USB-C socket as well as the card readers.
Product Features
:
3 USB-A ports for easy expansion. With USB3.0 specification, the data transfer rate up to 5Gbps. Backward compatible with USB2.0/1.1.
With the USB-C Power Delivery (USB PD) port, supporting maximum 100W/20V5A charging to your upstream computer including MacBook Pro 2019.
USB PD power actual output depends on your power adapter.
With the memory card readers, supporting both 24mm size and 11mm size memory card simultaneously, with SDHC / SDXC specification up to 2TB capacity.
USB-C connector allows you to connect with USB-C equipped computer, tablet and smartphone for data sync (the USB-C port on your device requires data transfer function).
Fast charging with BC1.2 technology, provides up to 5V1.5A of power per each USB-A port.
Plug and play, no driver required.
Hardware&Dimension
:
Color: Space Grey
Upstream: USB-C Male
Downstream: USB-A x3, SD, Micro SD, USB-C (for PD 100W charging)
Dimension: 110mm x 34.8mm x 12.3mm
Cable Length: 20.5cm
OD: 4.2mm
Package Contents
:
1 x uHUB P5+ (3-Port Expansion With Card Readers & USB PD 100W)
Shipping cost will be calculated during checkout. International duties & taxes may apply and are not calculated at checkout.
How do I know that my USB devices are connected via the USB hub in Windows?
Go through the following:
1. Press the Windows Key plus R, type "devmgmt.msc", and press Enter.
2. In Device Manager, under the appropriate heading, confirm that your expansion card is listed and that there isn't an exclamation mark next to it. For example, a USB controller card would be under Universal Serial Bus controllers.
3. Your USB device is listed according to the name of the chipset or the dedicated name.
How do I know that my USB devices are connected via the USB hub in macOS?
Go through the following:
1. Click the Apple icon.
2. Click About This Mac.
3. Click More Info or System Report.
4. Under the appropriate heading, please check that your USB device is listed (according to the name of the chipset or the dedicated name) and that there isn't an error. For example, a network card would be under Ethernet Cards.
5. You may have to refresh the System Information page after you plug in your device. To do so, press Command + R with the System Information page open.
Why the file transmission from an attached storage device cannot complete via the USB hub?
If you disconnect a USB-C power input from the multiport USB hub during the transmission of the files to or from an attached storage device, it will stop the transmission and may cause file corruption. It is also possible that there will be a loss of function if the power input is removed from the USB hub while it is in operation.
It is important to always follow the disconnection steps listed following:
1. Complete all data transfers over USB to and from the attached storage device.
2. Disconnect the USB hub from the host computer.
3. Disconnect your power input from the USB hub.
4. Eject your attached storage device.
How can I charge my laptop when connecting with the USB hub?
If your USB hub equips the USB Power Delivery (PD) port, you can use it to charge your laptop computer by connecting to a PD power adapter.
For more information on what the requirements are and about how much power this laptop docking station provides, refer to the product specifications.