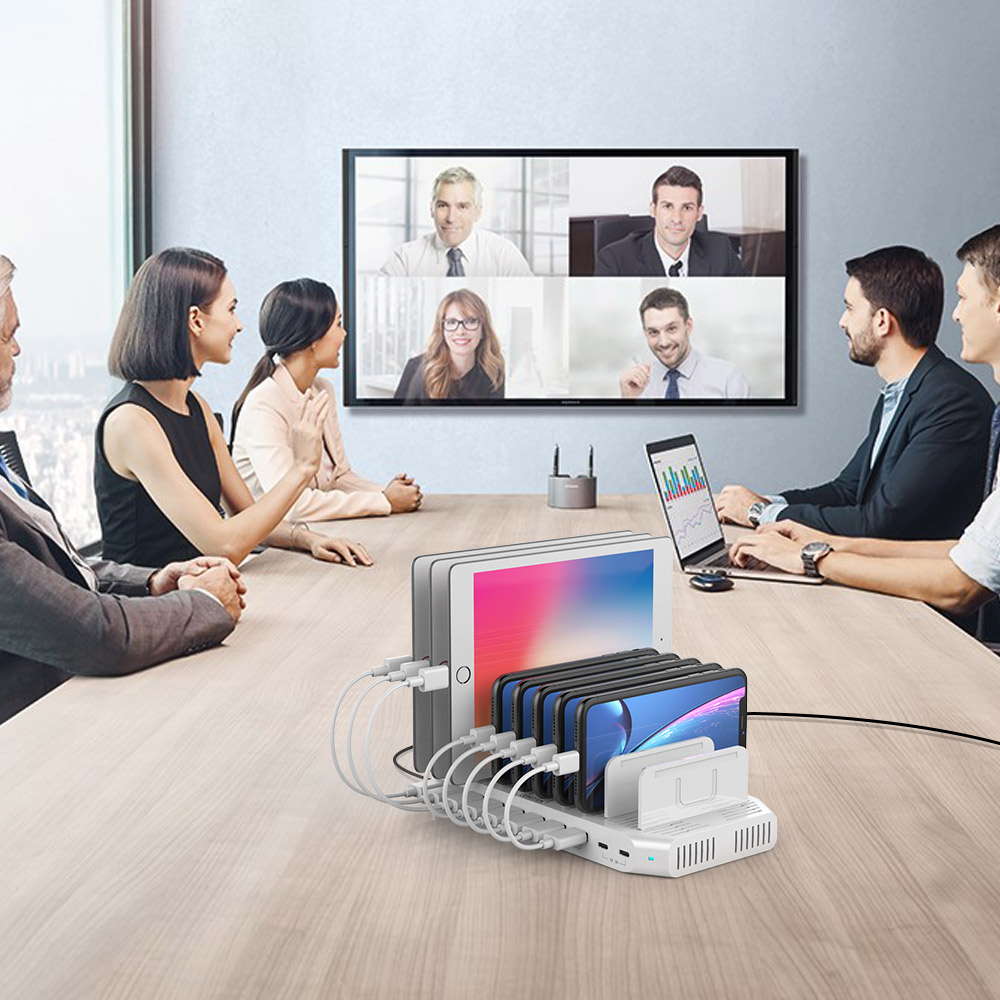 USB C Charging Station QC 3.0 120W
Unitek USB C Charging Station, 120W 10 Port Type C Charging Organizer for Multiple Devices, iPhone, Smartphones, Tablets, Supports 8 iPads Charging Simultaneously; UL Certified.
Detail
1. Detachable USB C Charging Station Dock for Multiple Devices such as iPhone, iPad, Kindle, Tablet, Smartphones
2. Save space,keep clean and tidy
3. Fast Charging - 2×3A USB C port for fast charging
4. Multi-device charging - The USB charging station is built with 8 USB 3.0 ports and 2 Type C charge ports, up to 10 devices charging simultaneously
5. For Different Smart Devices - Apple iPhone, iPad, Apple Watch, Kindle, Android, Smartphones, Tablets, Cameras, Bluetooth headsets, Speakers.
6. Multi-applicability for Unitek charging station - We made the best multi USB powerhouse charging station to be used at Home, Office, Coffee shops, schools, hospitals, airports, etc.
Specs
| | |
| --- | --- |
| Input | 100 - 240V |
| Output | 20V/6A/120Watt |
| USB Fast Charging Output | 5V/2.4A |
| USB C Port Output | 5V/3A |
| LED indicator | Power / Access |
| Dimensions | 9.4 x 4.6 x 1in |
| Length of AC Cord | 1m / 3.28ft / 39 in |
| Length of Output Cord | 1m / 3.28ft / 39 in |
| Plug | US Plug |
Package
1 x 10 Port USB Charging Station
11x Dividers (5 tall, 6 short)
5 x Micro USB Cable (2*0.3M/1ft, 3*0.2M/0.66ft)
1 x Power Supply
1 x Power Cord
1 x User manual
NOTE: Charging cables are NOT INCLUDED.
Shipping cost will be calculated during checkout. International duties & taxes may apply and are not calculated at checkout.
15W USB C Charger
2* USB C 5V/3A Fast Charging Station is designed for Type C smartphones & tablets, such as Samsung Galaxy Note 8, Google Pixel / Nexus, Microsoft Lumia 950 series, etc.
2.4A Fast Charger
8* 5V/2.4A Fast Charger charging Apple devices at fastest 2.4A. Smart charging port is compatible with most USB-charged devices, and can adjust current according to devices.
Detachable Dividers
UNITEK has innovate dividers for multi-port charging stations. UPGRADED dividers are much thicker than old version, can hold multiple devices easily and steadier.
Certified Safety
All USB Chargers are coming with UL listed, CE, FCC, RoHS Certified Power Adapters. Built-in multi-protection system ensures your devices safety while charging.
What device can the dividers hold?
The dividers are bearable for tablets and iPads etc. They won't loose or break easily if using them correctly. When inserting the dividers, please push them down all the way with some strength to ensure there isn't any gap, and don't leave too much spare room between the dividers and your devices so as to avoid loading too much weight on the dividers. When removing them, please don't take out by shaking them left and right, but just take out vertically.
Can this charge 10 devices together?
It depends on the power that your devices require. The total output power of this charging station is 120W, if your10 tablets' total power exceeds 120W, we don't suggest charging 10 units at a time.
What type of cords are included?
The package includes a power cord for the charging station's DC power adapter, it doesn't include the short charging cables for your devices.
If you lose the power cord is it possible to reorder one?
Yes, you could buy another 20V/6A power cord in the local market. Kindly note that the power cord for this charging station shouldn't exceed 20V.