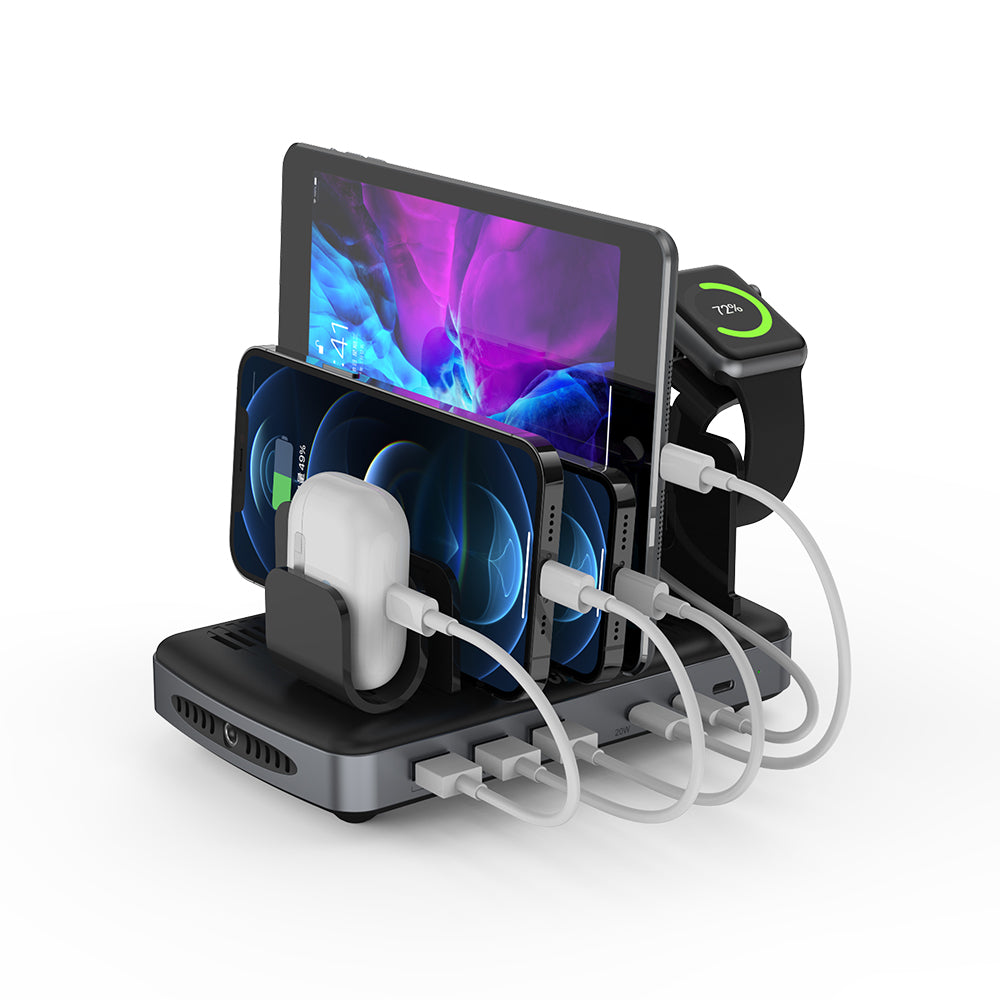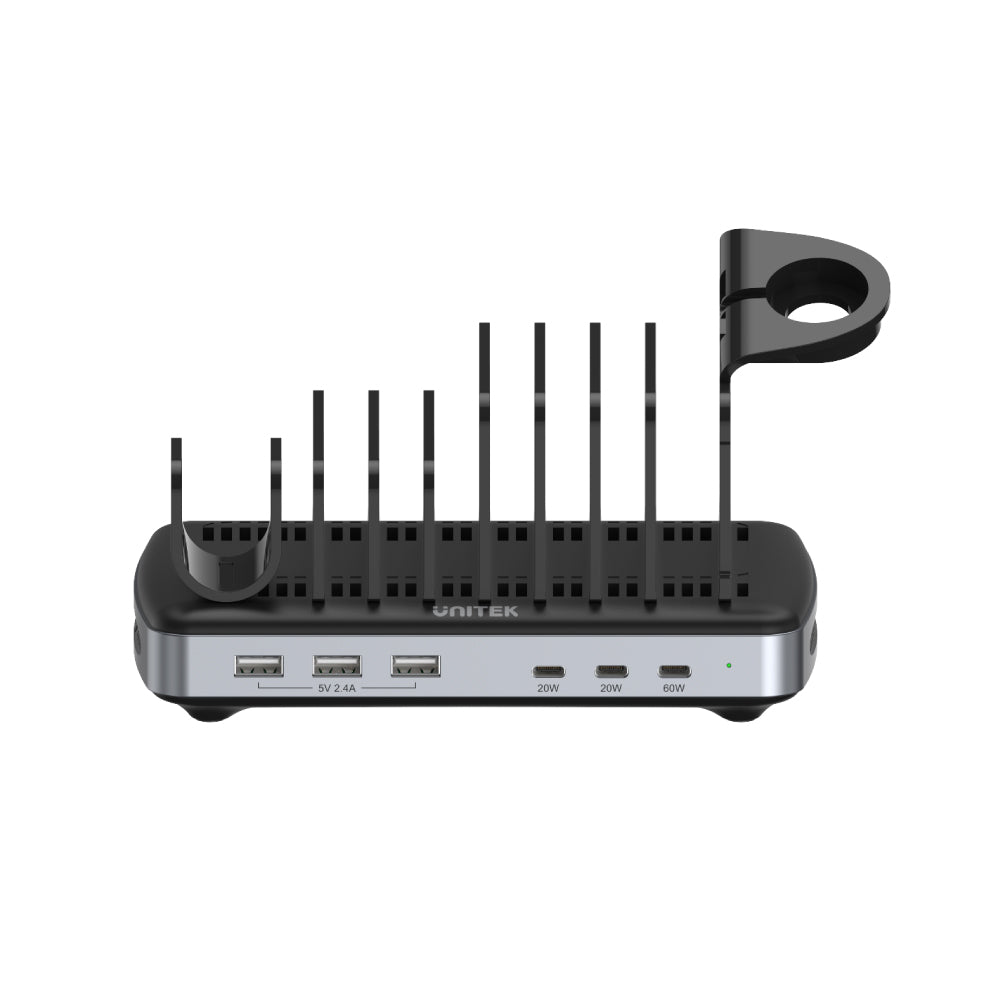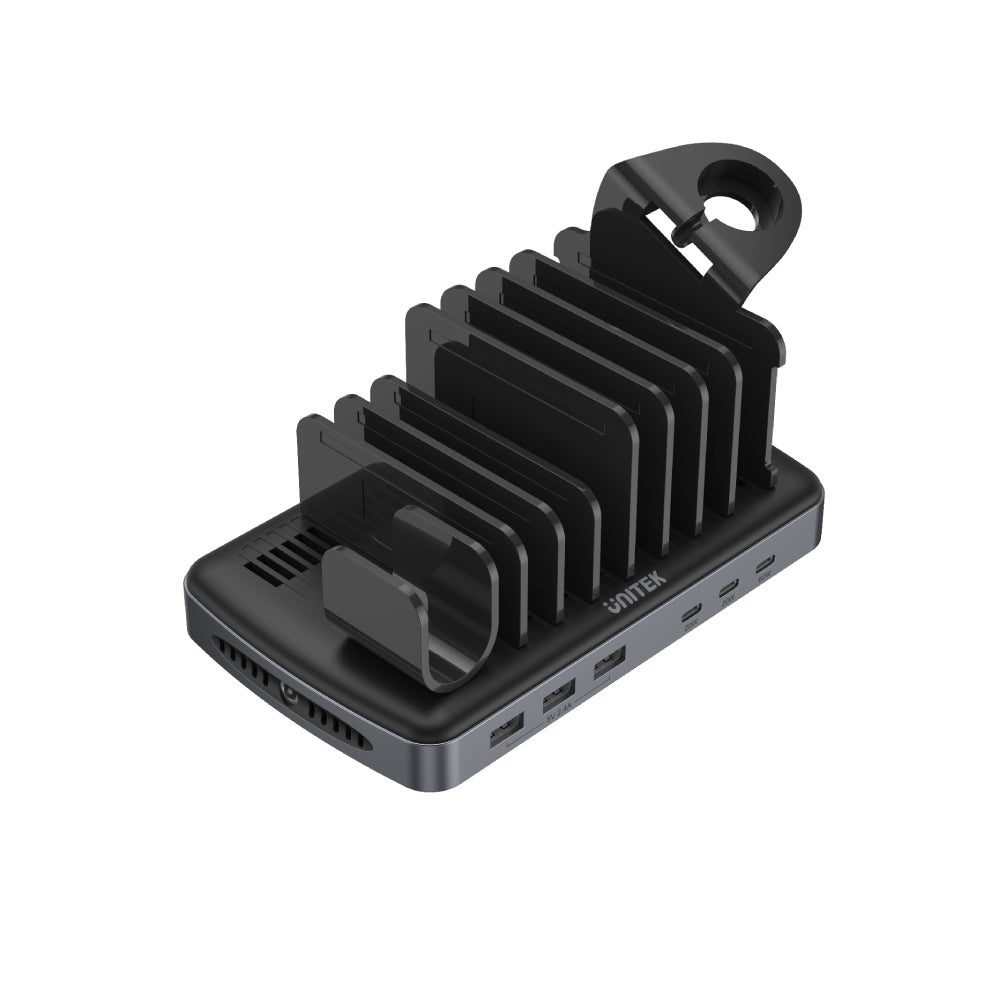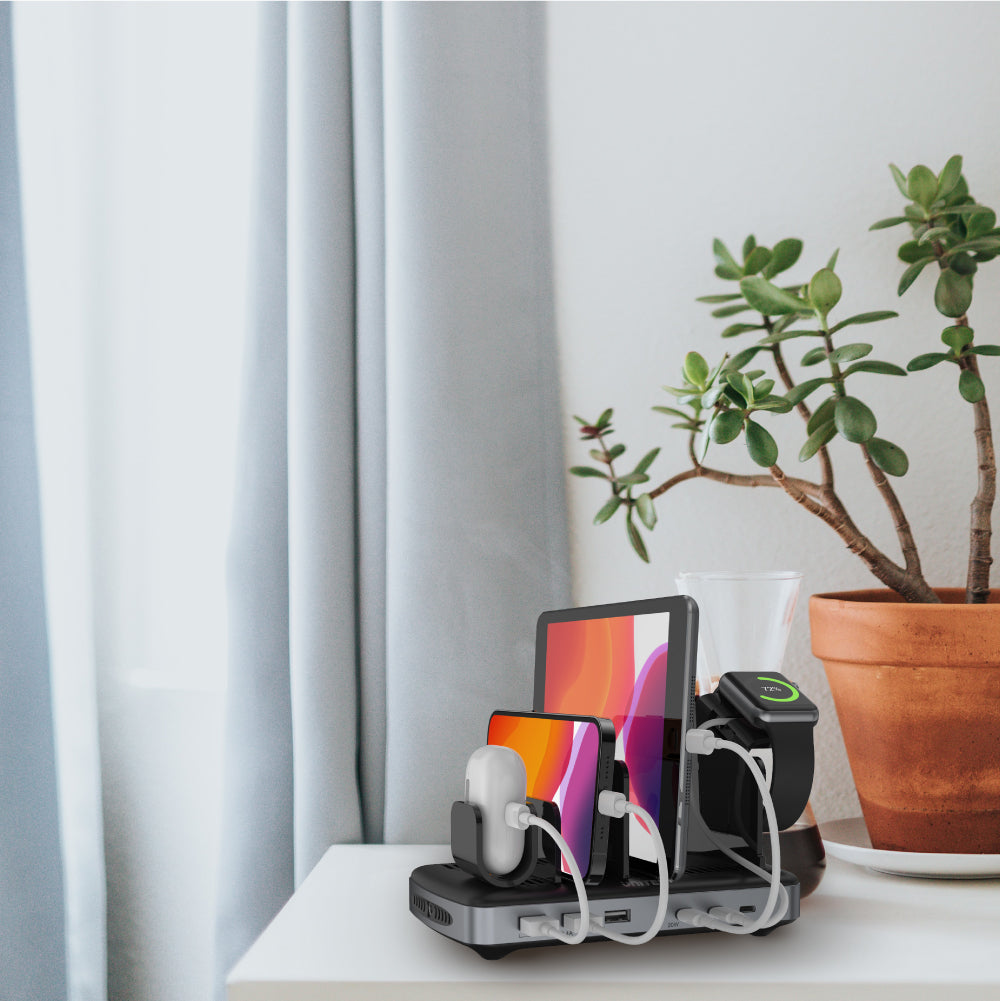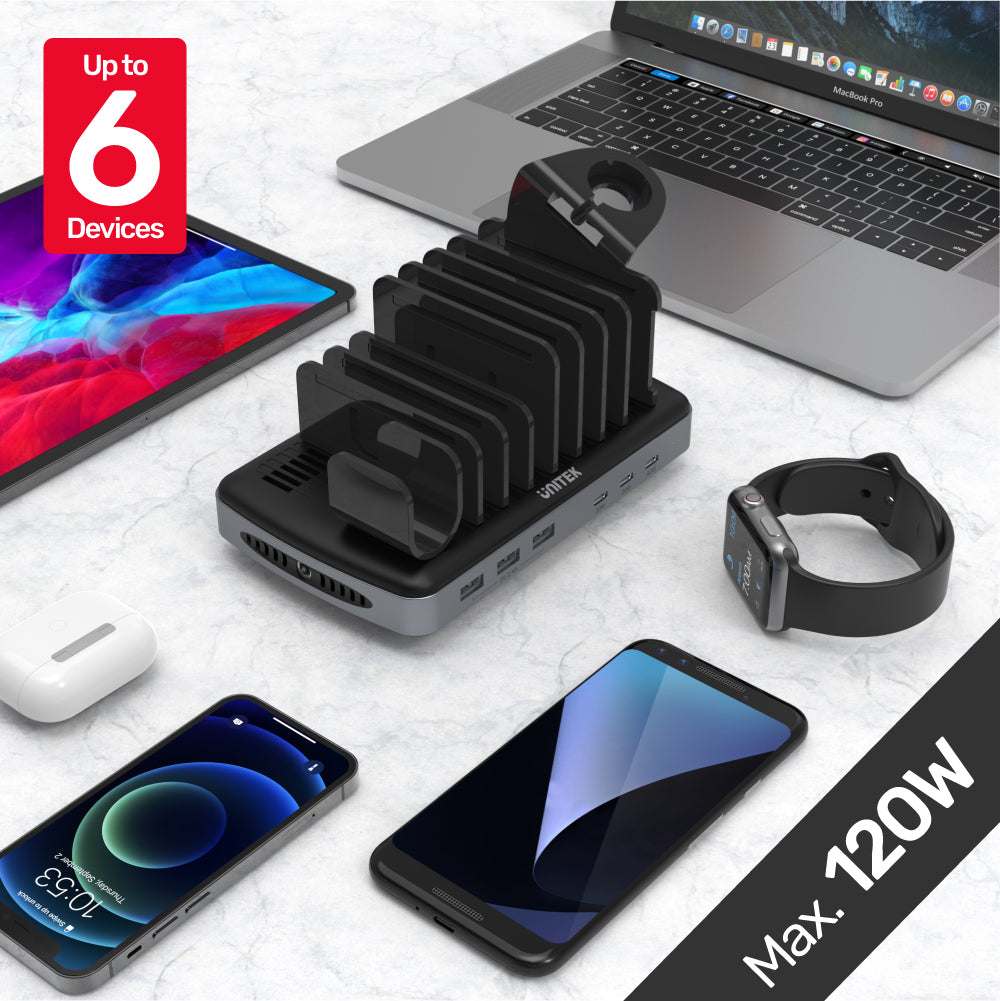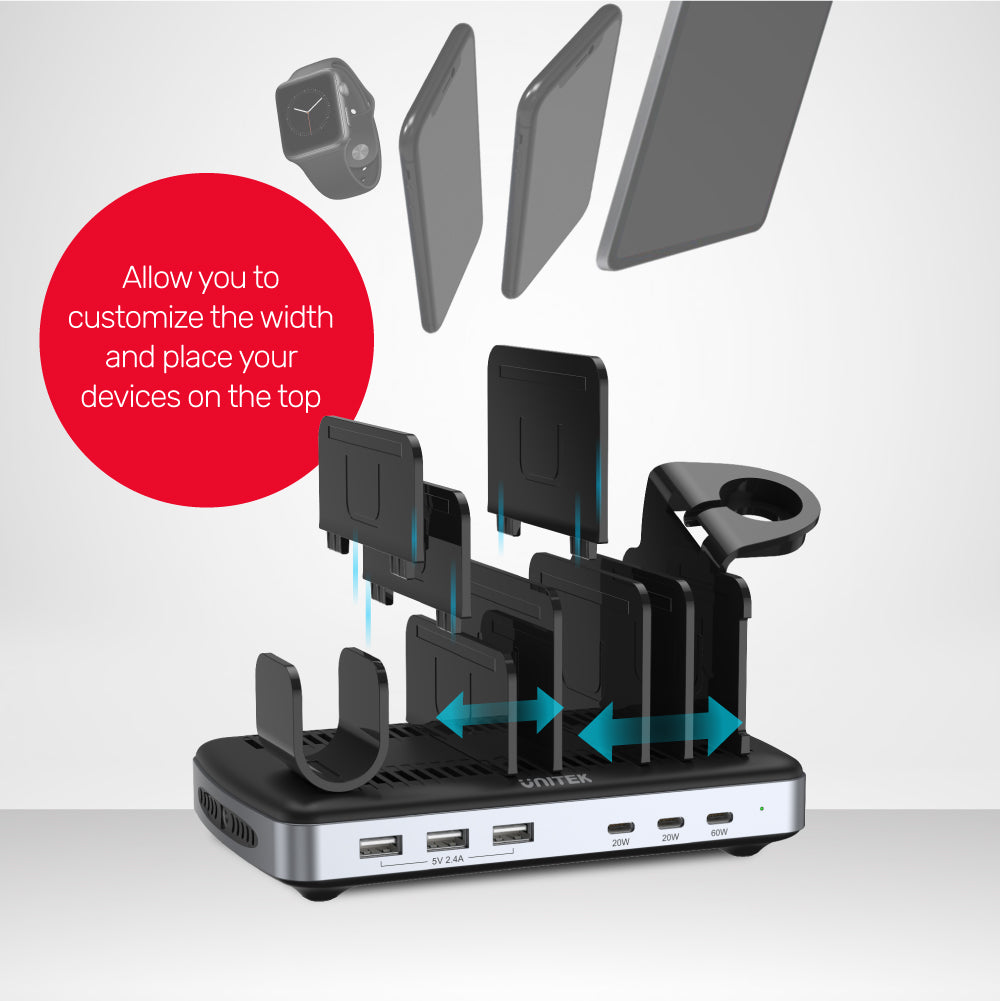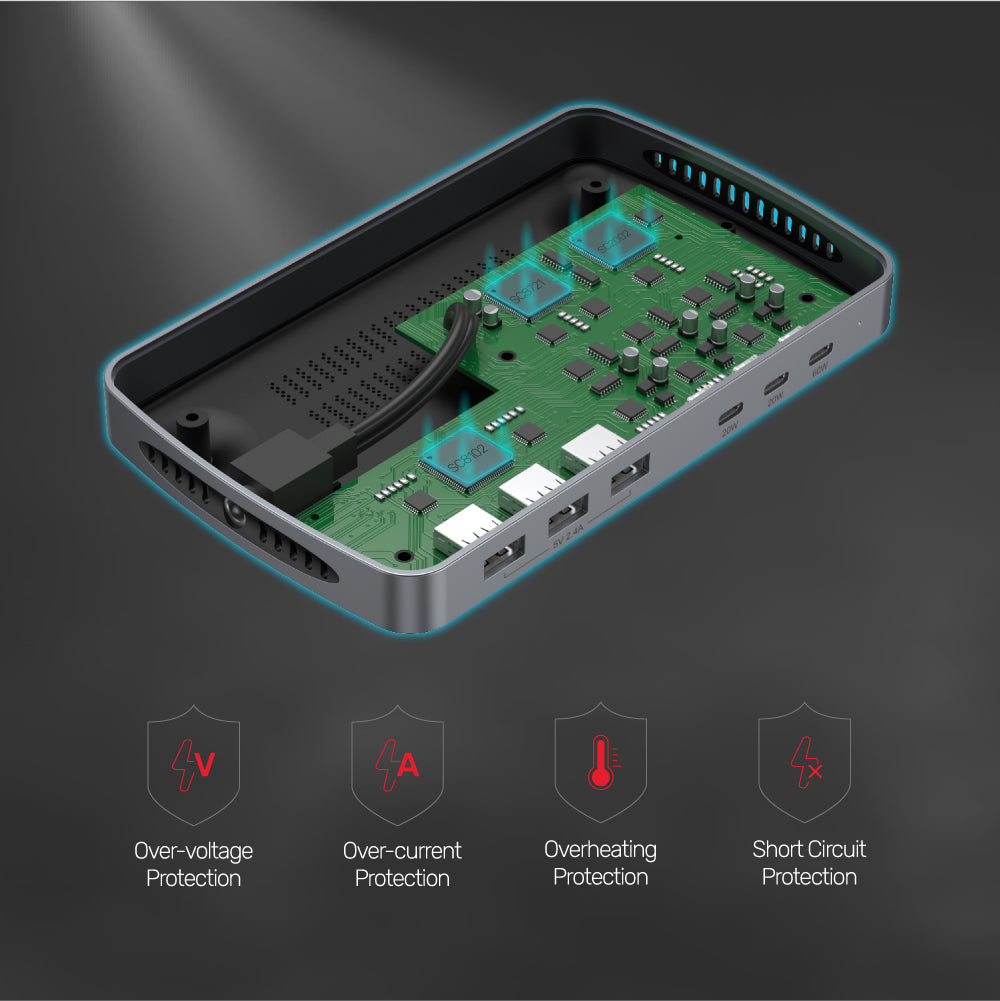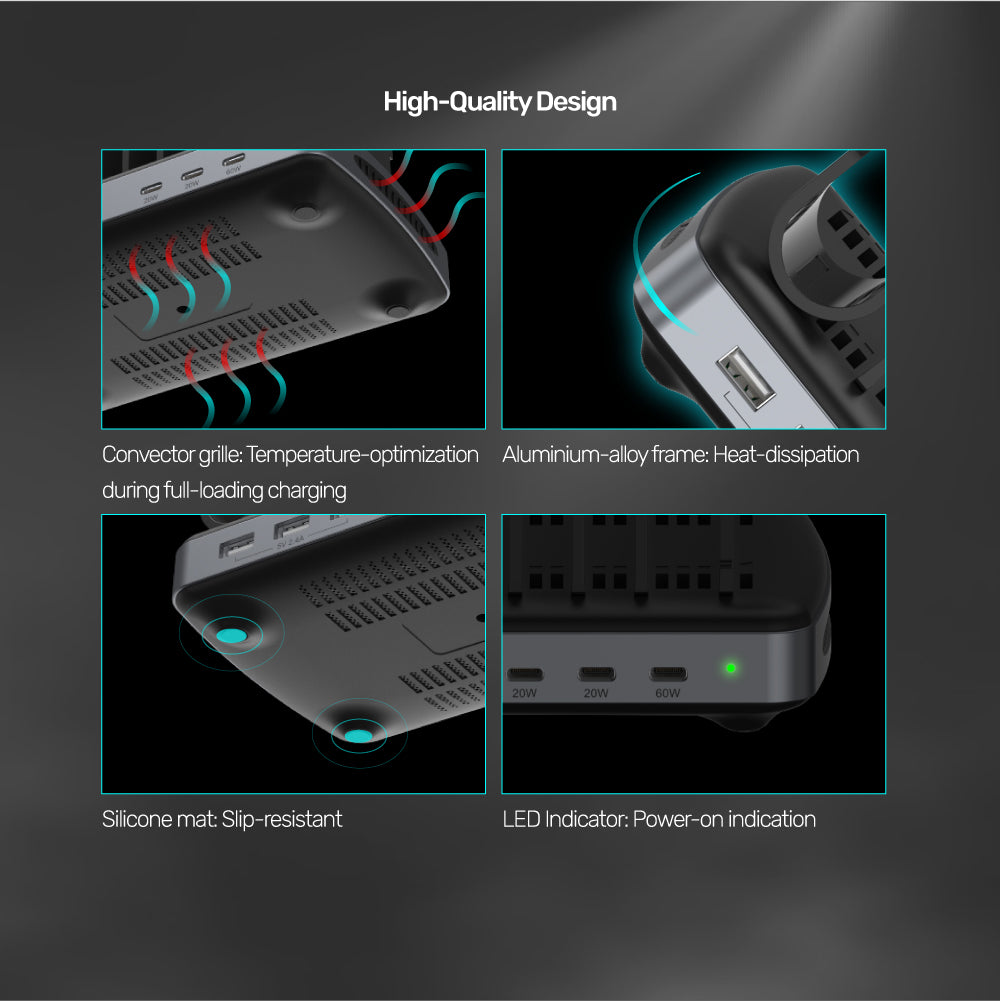 Smart HP6 6 Ports USB-C and USB-A Smart Charging Station 120W with Triple USB PD
This 6 ports smart charging station offers triple USB-C Power Delivery full-speed charging and 120W in total all 6 ports. It is fully compatible with your tablets, smartphones, AirPods and Apple Watch as a charging station and as a desk organizer.
Remark: Package includes charging cables.
Details
Features:
• Smart charging station offers 6-port USB output full-speed charging, 120W total power output plus dynamic current detection, fully compatible with your tablets, smartphones, AirPods and Apple Watch. Perfect for multiple occasions including working space, conference room, classroom, bedside etc.
• 3 USB-C ports support PPS charging protocol, to auto-adjust the voltage and current in real-time, depending on a device's charging status. One of the USB-C ports supports up to USB Power Delivery 60W to output PD3.0/2.0 protocol, and the other two support up to 20W.
• 3 USB-A ports support BC1.2/APPLE 2.4A/DCP/AFC/FCP, each of them supports up to 2.4A output.
• Built-in three intelligent protection circuits against overvoltage, overcurrent, and short-circuit, as well as the heat dissipation system.
• Excellent design for users to place on the top of this charging station, helpful on space-saving and keeping tidy. Users can simply adjust the separator slats and the slot width, to fit every device.
• Made with high-quality durable ABS environmentally friendly material. The anti-slippery base keeps this charging station stable and steady.
• This gift box is attached with 6 charging cables including 1 pair of PD 60W USB-C cables (25cm and 100cm) and 2 pairs of USB to Lightning cables (25cm and 100cm).
• With LED indicator, clearly express the working status.
Specs
Colour
Black
Dimension
185mm x 113mm x 35mm
Materials
• Aluminium-Alloy Frame
• BS Environmentally-Friendly Plastic
Upstream
USB-C
Downstream
• 1 x USB-C PD (60W PD Charging)
• 2 x USB-C PD (20W PD Charging)
• 3 x USB-A 5V2.4A
Input
AC100-250V/ 50-60Hz
Output
Total Max. 120W
Cable Length of Power Cord
2M
Packaging Content
1 x Smart HP6
1 x Apple Watch Stand
1 x AirPods Stand
1 x 20V/6A DC Power Adapter
2 x PD 60W USB-C Cables (25cm and 100cm)
4 x USB to Lightning Cables (2 x 25cm and 2 x 100cm)
8 x Separator Slats (5x tall + 3x short)
1 x User Manual
Shipping cost will be calculated during checkout. International duties & taxes may apply and are not calculated at checkout.
6 Ports Charging With Triple USB-C Power Delivery
Ensure sufficient power for high consumptions devices even a laptop up to 60W.
One-Stop Full-Speed Simultaneous Charging Solution
Charge up to 6 devices at the same time, maximum total of 120W. Free you from a bunch of power adapters.
Desktop Organizer
Eliminate the clutter and space issue of multiple devices charging.
Dedicated For Apple Watch & AirPods
With the dedicated stand for your Apple Watch and AirPods.
Swappable Slat Separators
Customize to fit your different devices.

Note: We recommend not to lay a laptop sideways against the slats since it might be too heavy.
Smart & Safe By Powerful Chipset
Detect and control the optimized current of your devices in real-time.
High-Quality Design
Safe and user-friendly to all customers.
What device can the dividers hold?
The dividers are bearable for tablets and iPads etc. They won't lose or break easily if using them correctly. When inserting the dividers, please push them down all the way with some strength to ensure there isn't any gap, and don't leave too much spare room between the dividers and your devices so as to avoid loading too much weight on the dividers. When removing them, please don't take them out by shaking them left and right, but just take them out vertically.
Can this charge 6 devices together?
It depends on the power that your devices require. The total output power of this charging station is 120W, if your 6 tablets' total power exceeds 120W, we don't suggest charging 6 units at a time.
What type of cords are included?
The package includes a power cord for the charging station's DC power adapter, and 2 USB-C PD cables (25cm and 100cm) as well as 4 Lightning cables (2 x 25cm and 2 x 100 cm).
Does this support USB PD for quick charging iOS devices over USB-C?
Yes, the single USB-C PD port on this Charging Organizer support USB-C PD charging up to 60W(20V3A). They can quick charge ios devices, including a 13-inch Macbook Pro.
What is PD?
PD (USB Power Delivery) stands for power delivery. PD technology basically enables your device to take on more power in a shorter amount of time, which translates to superfast charging. Many of the most popular mobile devices, including iPhones and Galaxy devices, are PD-enabled.