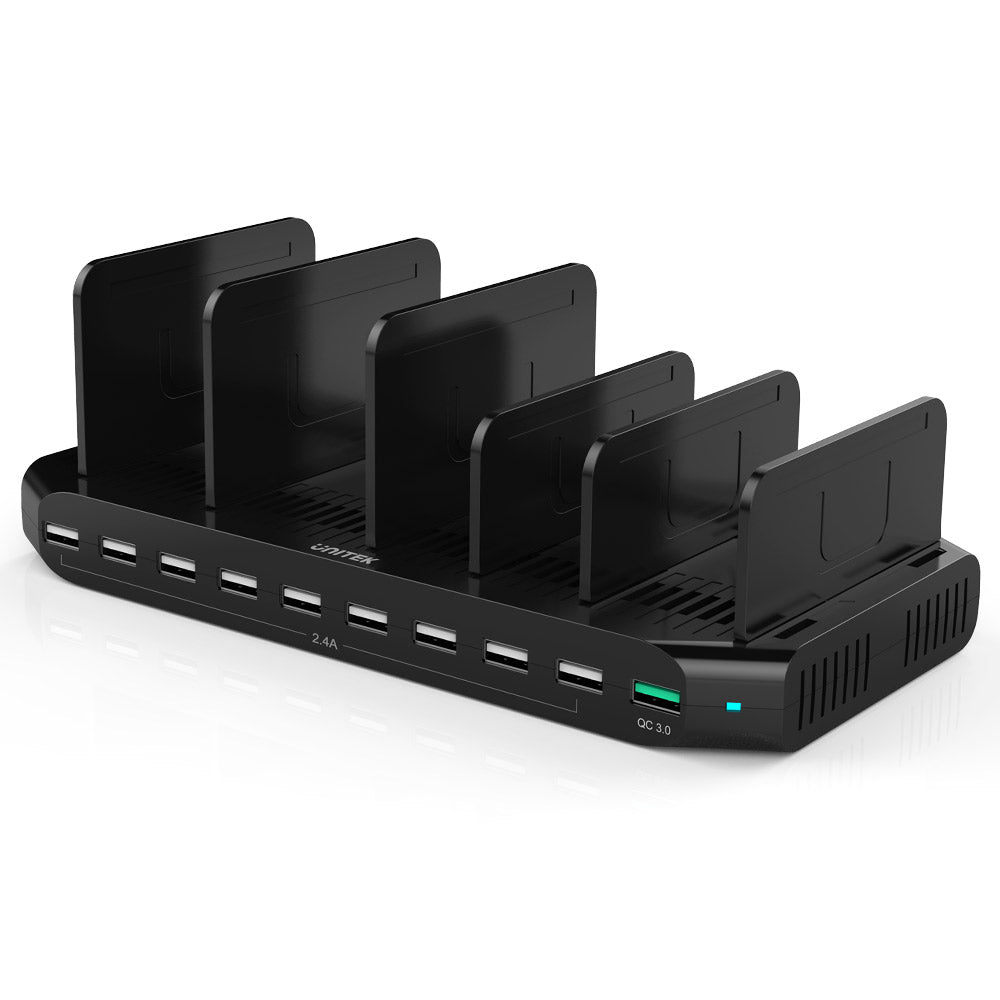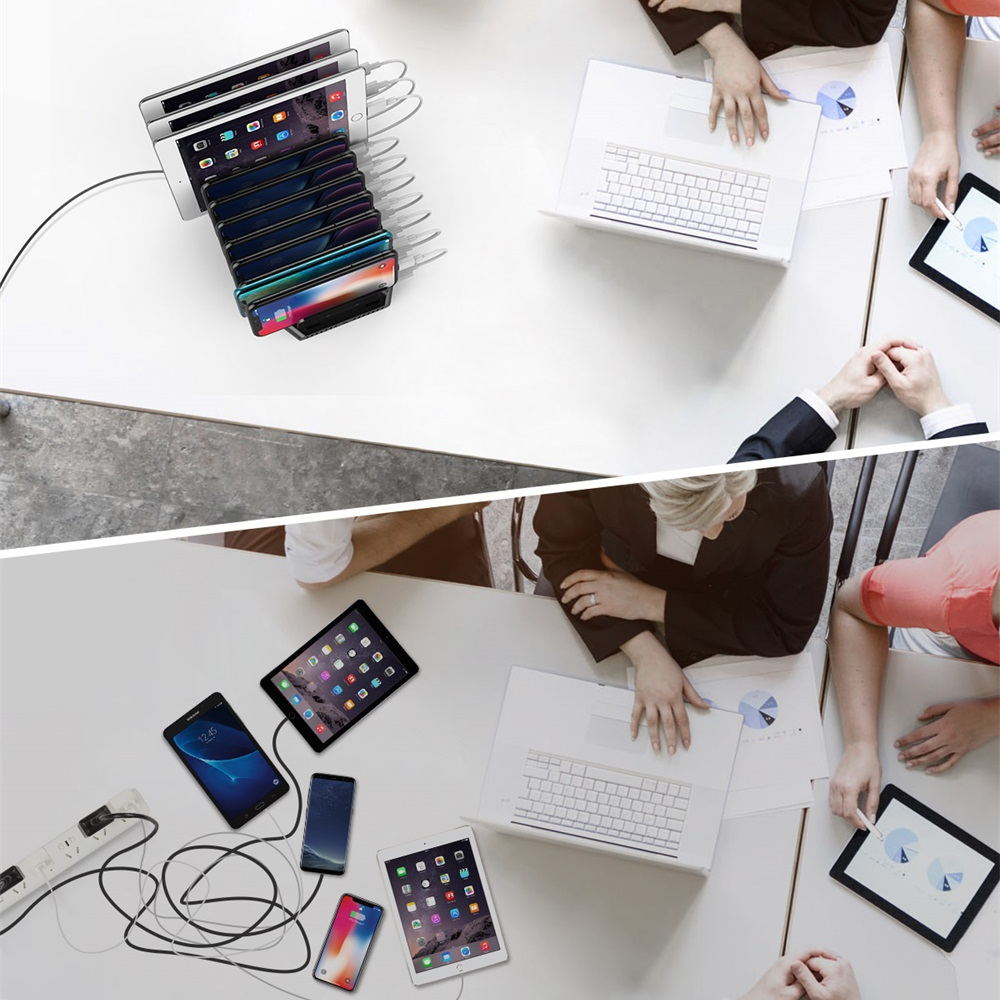 10 Port iPhone iPad Charging Station 60W
10-Port USB Charging Station with Quick Charge 3.0. The multi-functional fast charger organizer allows you to charge 10 multi-devices at the same time. Saving more time and money, and don't have to worry about different charging requirement for different devices. Also, the docking station keeps everything in one place, tidy and organized.

Detail
10 Port Charger:
The charger organizer stand charges up to 10 smartphones or 5 iPads altogether. Rapid charging with Smart IC and BC1.2 technology and provides up to 5V/2.4A each port.
Fast Charger and Organized:
Built-in Quick Charge 3.0 port, allows multi QC devices charge up to 80% in 35 minutes, It's 4 times faster than conventional charging station. Ergonomic, compact and portable design, much more space-saving and well-organized while charging your devices.
Certified Safety:
Equipped with UL listed, CE, FCC, RoHS Certified Power Supply Adapter. Multi-Protection System protect your devices against over-charging, over-heating, over-voltage, surge and short circuit. Worldwide AC 100-240V input voltage with Rated DOE Level 6 for energy efficiency.
Notes:
Please use Certified cables for optimum performance.
Device slots should be a little wider than devices.

Specs
| | |
| --- | --- |
| Input | AC100-240V/50-60HZ |
| Output | DC15V/ 4A Max |
| Power Supply | 60W |
| LED Indicator | Power / Access |
| Length of AC Cord | 1.5m/ 59in |
| Plug | US Plug |
Package
1 x 10 Ports USB Charging Station
11 x Detachable Dividers
1 x 15V/4A DC Power Adapter
NOTE: Charging cables are NOT INCLUDED.
Shipping cost will be calculated during checkout. International duties & taxes may apply and are not calculated at checkout.
Smart IC
Charging will automatically stop when the battery is full.
Adjustable Dividers
The adjustable baffles let you set any width you need, holding your iPads, iPhones and tablet even in bulky cases.
What device can the dividers hold?
The dividers are bearable for tablets and iPads etc. They won't loose or break easily if using them correctly. When inserting the dividers, please push them down all the way with some strength to ensure there isn't any gap, and don't leave too much spare room between the dividers and your devices so as to avoid loading too much weight on the dividers. When removing them, please don't take out by shaking them left and right, but just take out vertically.
Can this charge 10 devices together?
It depends on the power that your devices require. The total output power of this charging station is 60W, if your 10 tablets' total power exceeds 60W, we don't suggest charging 10 units at a time.
What type of cords are included?
The package includes a power cord for the charging station's DC power adapter, it doesn't include the short charging cables for your devices.
If you lose the power cord is it possible to reorder one?
Yes, you could buy another 15V/4A power cord in the local market. Kindly note that the power cord for this charging station shouldn't exceed 15V.
What is a QC 3.0 port?
QC 3.0 refers to Quick Charge @ 3.0. It will charge 25% faster than the 2.4 port.