If you have always find switching between game cards on your Nintendo Switch a chore, Unitek has showed off an ingenious custom dock for the game console at COMPUTEX 2023 that allows you to switch game cartridges with just a press of a button.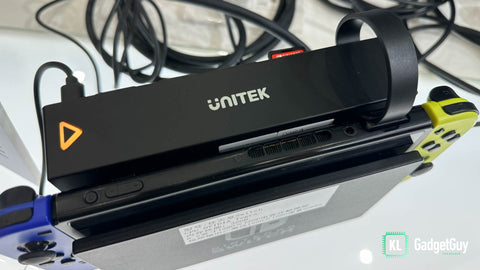 The dock looks very much like Nintendo's default charging dock, Unitek has included a cartridge switcher that holds up to 8 game cards, which 4 of them can be used by the Switch's game card slot, while the remaining 4 of them serves as storage for your game cards, the end of the dock features a game card like connector which you will then insert into the game card slot of your switch, and it requires external power by just using a USB-C cable, which can be connected to the USB 3.0 port that Unitek has conveniently designed at the side of the dock.

Although the dock already features Nintendo's branding at the back, Unitek says that they are in the process of getting this accessory licensed by Nintendo, and it intends to sell this product by summer this year, no estimated pricing has been shared with us at this time of publishing, but we think this is going to be a cool accessory to own if you tend to switch games often when gaming on your TV.

--Warren/GadgetGuy