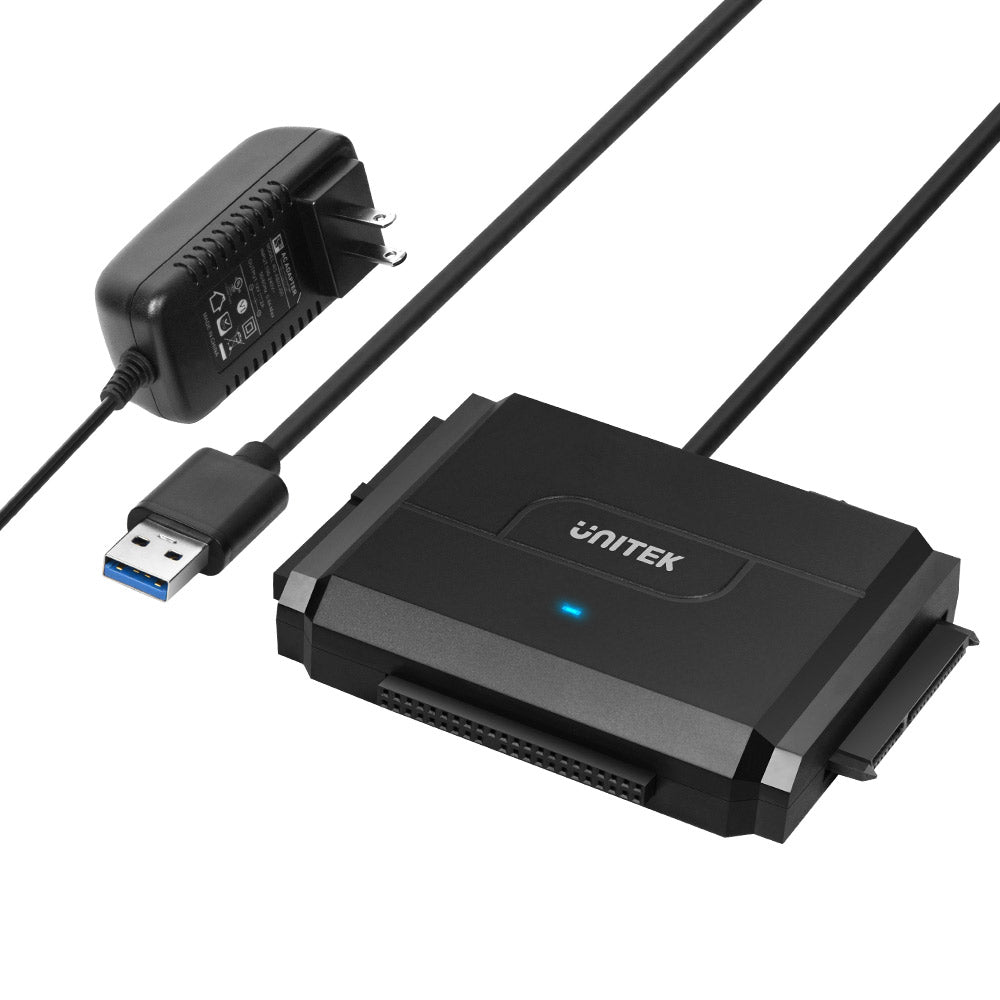 USB 3.0 SATA to IDE Adapter 2.5"/3.5"
USB Hard Drive Adapter:
Unitek USB 3.0 SATA to IDE Adapter 2.5"/3.5" with stable power supply, allowed to operate three hard disk drives simultaneously. IDE Hard Drive Adapter for Universal 2.5"/3.5" Inch IDE and USB to SATA Adapter HDD/SSD with 12V 2A Power Adapter, Support 10TB.
Product Feature:
1. SATA/IDE to USB 3.0 Adapter: Dual-Head IDE Connector (40pin and 44pin) plus one SATA II Connector. Support SATA 2.5"/3.5" HDD up to 10 TB, IDE 2.5"/3.5" HDD, DVD-ROM, CD-ROM, CD-RW, DVD-RW, DVD + RW Optical Drive. Nice gift for your USB Storage to Hard Drive!
2. Stable Power Supply: Included 12V 2A power cable is for providing stable electricity supply. 4PIN Power Cable is designed for 3.5" IDE drive.
3. Superspeed USB 3.0: Data transfer rates up to 5 Gbps, backward compatible with USB 2.0/1.1. Support Windows XP/Vista/7/8/10 and Mac OS. You may need this External Hard Drive Adapter for back up your hard drive.
4. Hard Drive Adapter Kit Driver Free: Plug and play. Automatic Sleep Mode after 30 minutes of inactivity. Support Hot Swapping. On/Off Switch for HDD protection. LED light shows Power and Activity status.
5. Warranty: 2-year warranty quality guarantee, 24h friendly customer service and email support.
Package Content:
1 x UNITEK SATA/IDE to USB 3.0 Hard Drive Adapter
1 x 12V 2A Power Adapter
1 x 4PIN Power Cable
1 x User Manual
Shipping cost will be calculated during checkout. International duties & taxes may apply and are not calculated at checkout.