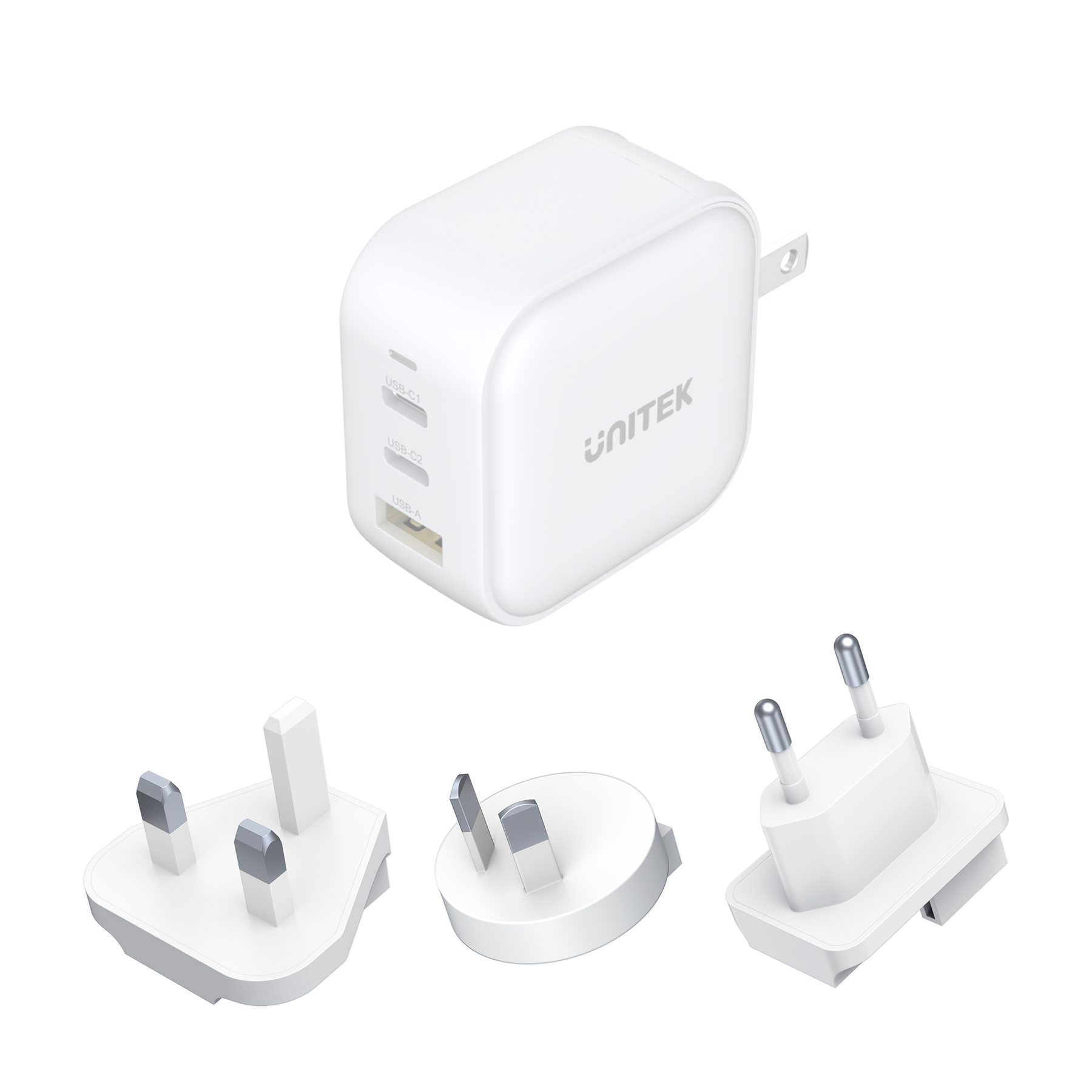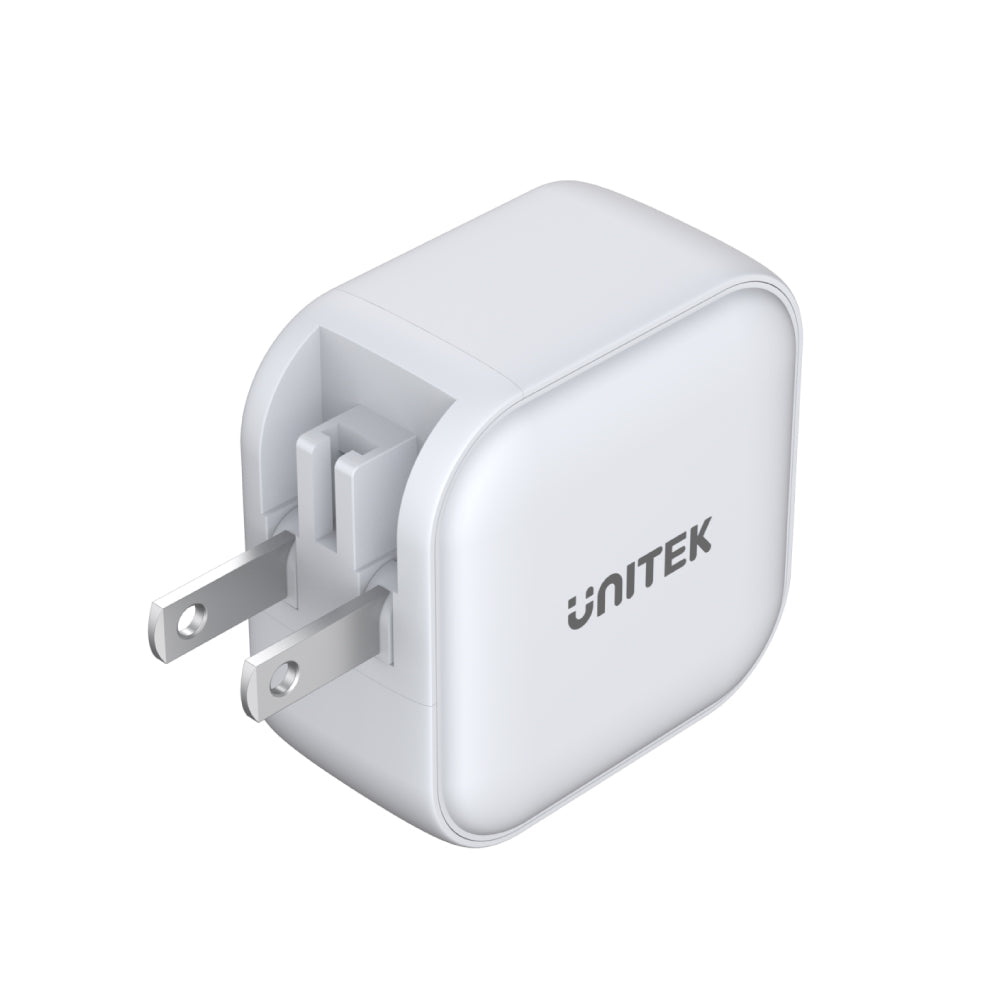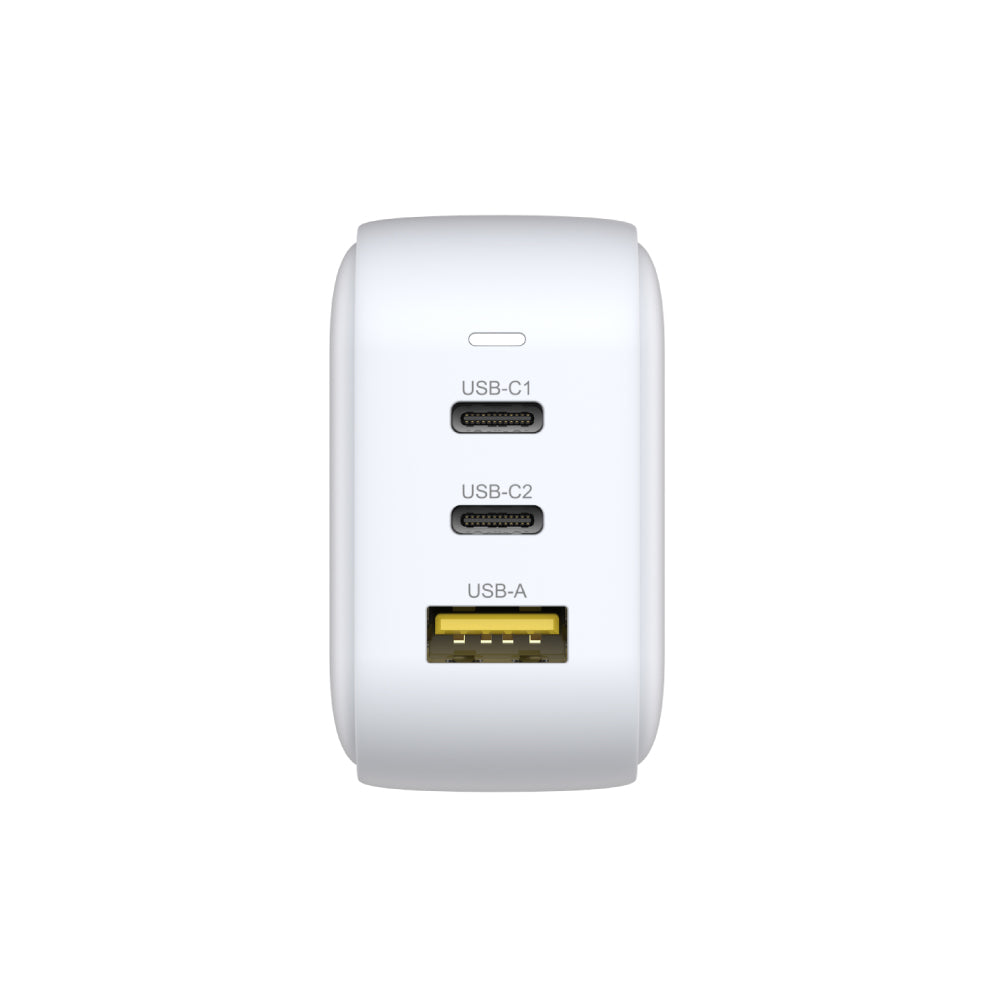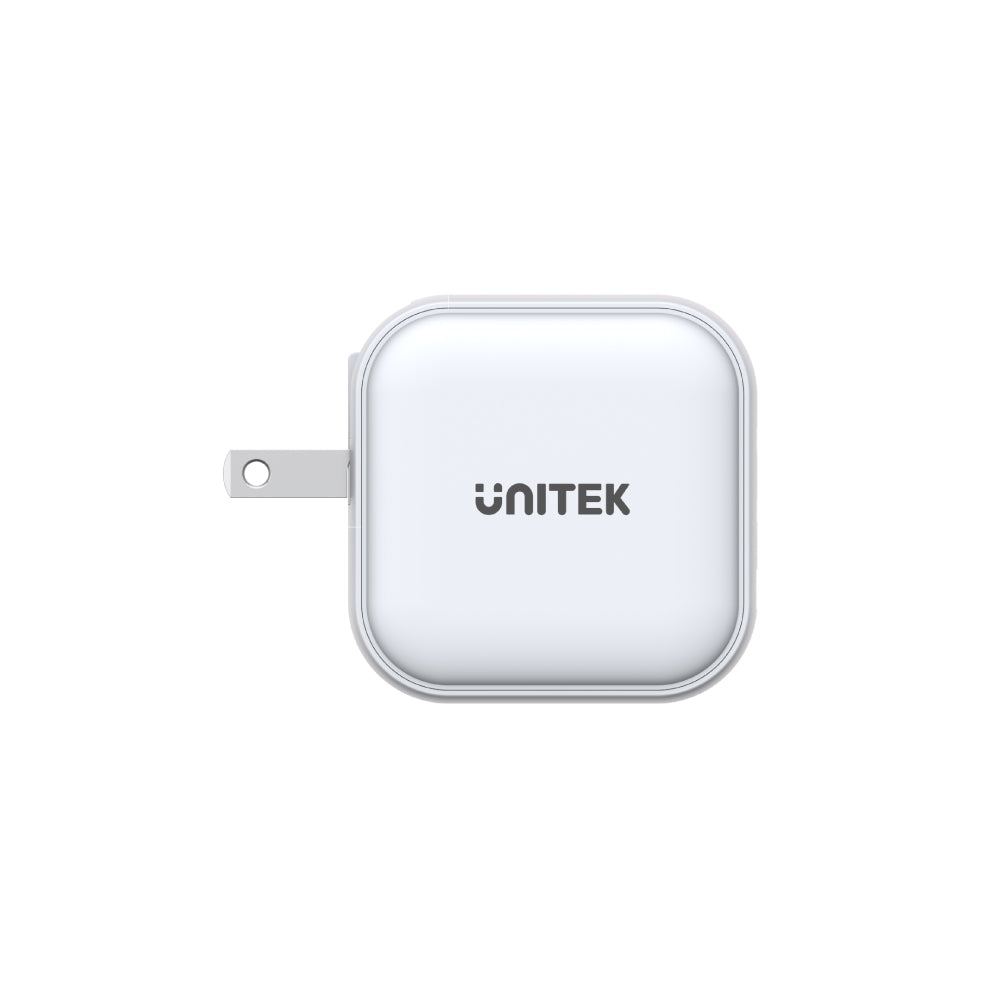 TRAVEL TRI GaN 3 Ports 66W Charger with USB PD and QC 3.0 in White (Travel Charger)
Gallium nitride (GaN) is a high-performance charger compare to the traditional silicon used in charging devices. It achieves high power output with a compact size, ideal for charging anywhere. This 3 ports Black GaN charger equips with 2 x USB-C PD ports and 1 x USB-A QC port, together with replaceable plugs working worldwide for your laptops like MacBook Air, or tablets and smartphones, even when you're travelling abroad. 
Details
• Superior in craftsmanship and performance.
• Powerful GaN(gallium nitride) technology offers super-efficiency at current-transferring with low heat generation which also results in a compact and lightweight design.
• This travel charger can be applied globally. It equips foldable US plug and comes with EU, UK and AU adapter for replacement and supports the voltage-input under AC 100~240V, 50~60Hz, 1.7A Max.
• While with a single connection, USB-C Power Delivery(PD) port offers maximum 65W applying on laptop e.g. MacBook Air, and Qualcomm Quick Charge 3.0 USB port offers maximum 36W, meets most of the smartphones and tablets.
• In dual connections of both USB-C, it results in evenly maximum 30W power output. In another situation, USB-C will be in maximum 45W plus USB-A in maximum 18W.
• When all three ports connecting with devices, the 1st USB-C offers maximum 30W, 2nd USB-C and the USB-A in 18W. Total power output is 66W.
• Built-in four intelligent protection circuits against overvoltage, overcurrent, overheat and short circuit.
• With LED indicator, clearly express the working status.
Specs
Colour
White
Dimension
50mm x 50mm x 25mm
Materials
Polycarbonate Plastic(PC)
Chipset
INN650D02 & NCP1342
Power Input

AC: 100-240V AC (50-60Hz) 1.7A Max

Power Output

-USB-C x 2: Max. 65W (USB Power Delivery Supported)
-USB-A: x 1: Max. 36W (Quick Charge Supported)

Output:

Single Connection with USB-C: Max 65W
Single Connection with USB-A: Max 36W
Dual Connection with both USB-C: 30W and 30W
Dual Connection with USB-C and USB-A: 45W and 18W
Triple Connection: 1st USB-C in 30W, 2nd USB-C in 18W and USB-A in 18W

Packaging Content

1 x 66W TRAVEL TRI GaN
1 x User Manual
Replaceable EU Plug, UK Plug and AU Plug
Shipping cost will be calculated during checkout. International duties & taxes may apply and are not calculated at checkout.
Perfect Control In Incredible Small Size
Gallium Nitride (GaN) technology help achieves 95% power efficiency, plus perfectly low-temperature control
Max. 66W Smart Dynamic Detection
Empowered by USB Power Delivery and Quick Charge
Global Voltage Compatibility
Universal 100V - 240V voltage power-in for you to charge in virtually any country

Multi-Protection
All Around Protection against Over-Voltage, Over-Current, Overheating, Short Circuit
What is the difference between GaN charger and traditional battery charger without GaN technology?
Compared with the normal battery charger, GaN charger is a new technology that allows higher output in overall compact size.
Does it matter which of the USB-C PD ports you use? Essentially are they for the same purpose?
Both two USB-C PD ports highest output at 65W (single connection), which can charge laptops efficiently. While it is in dual connection with both USB-C, the maximum output of both ports will be decreased.
What's the difference between GaN and PD (Power Delivery)?
GaN allows the chargers to be smaller and Power Delivery allows them to deliver enough power to charge quickly.
Does it support 220 volts?
It comes with the universal adapters, 100V-240V voltage power-in for you to charge in virtually any country